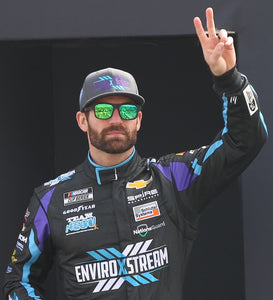 Chase Elliott's Stunning Suspension Unleashes Corey LaJoie in the Spotlight at NASCAR
Chase Elliott, NASCAR's dynamic star, experienced an unforeseen twist in his racing career during the Coca-Cola 600 on Monday - a suspension. The aftermath of a high-speed tangle with fellow racer Denny Hamlin has led to one of the most riveting storylines in recent NASCAR history.
The Coca-Cola 600, one of NASCAR's crown jewel events, erupted into controversy when an on-track incident between Elliott and Hamlin set the stage for a series of dramatic turns. The competition regulators believed that Elliott had intentionally wrecked Hamlin in retaliation, a charge that has the NASCAR world buzzing.
Elliott, however, had been thrust into the wall earlier, a circumstance that could have severely impacted his car's steering ability. Given the high velocities involved in this prestigious race, a compromised control system might have led to the contentious incident rather than a calculated move on Elliott's part.
Despite this, NASCAR had to make a decision and in an unexpected verdict, the organization announced Elliott's suspension. This outcome has sent shockwaves through the sport, leaving fans and fellow racers to grapple with the fallout. It is an unusual position for Elliott, one of the sport's most popular figures, to be in, having found himself in the crosshairs of controversy.
While Elliott's suspension has certainly cast a shadow, it has also paved the way for an exciting opportunity. Corey LaJoie, a seasoned racer with a strong pedigree, will step into Elliott's shoes and drive his car for the foreseeable future.
The prospect of LaJoie behind the wheel of Elliott's car is both intriguing and suspenseful. The spotlight, which was previously on the high-octane rivalry, has now shifted to LaJoie, who has the chance to showcase his skills in the state-of-the-art equipment that Elliott usually commands.
LaJoie, a proven racer, now has the chance to step up his game. With this unexpected opportunity, he is set to rewrite his career story. Will he be able to rise to the occasion and capture the magic that Elliott brought to the race track? Or will he chart his own unique path and establish his signature style in Elliott's car? These are the questions swirling around as we eagerly wait for the next race.
The suspension of Chase Elliott is undoubtedly a significant moment in this NASCAR season. It opens up a new chapter not only for Elliott and Hamlin but also for LaJoie, who now has a golden opportunity to prove his mettle. The world will be watching keenly as the story unfolds on the racetrack. One thing is for sure: the sport of NASCAR never fails to deliver thrill and excitement.
Stay tuned to Trackside Signatures for more in-depth coverage and commentary on this high-octane drama, and the dynamic shifts in the NASCAR landscape.
---